This Off Season – we're sending you home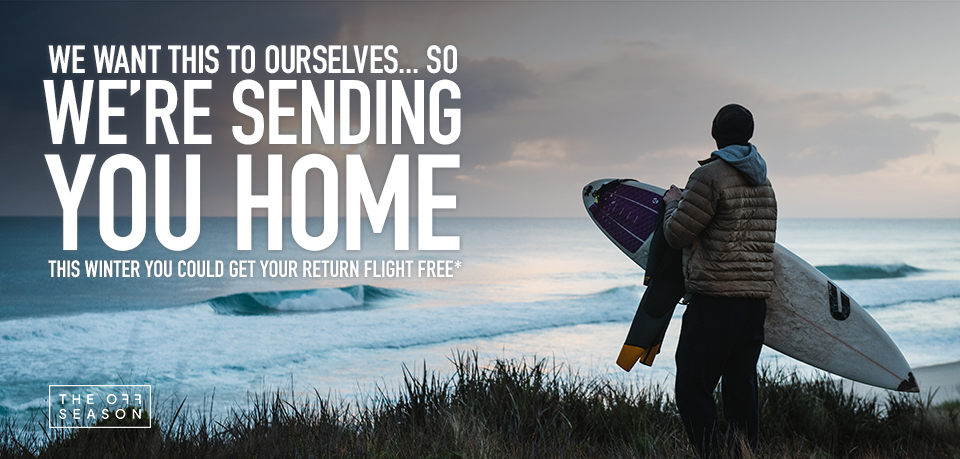 Winter on the Bass Strait islands is magic.
Immerse yourself in raw, wild nature at its finest, from hiking through the untamed wilderness of Flinders Island to wandering along the dramatic coastline of King Island.
Savour the exceptional flavours of island produce, whether cultivated on the windswept pastures of King Island or harvested from the coastal waters of Flinders Island.
Whether it's King Island or Flinders Island – here, you can experience winter like nowhere else on Earth.
The friendly locals know – and love – how magical their islands are in winter! And, truth be told, they're a little reluctant to share their wonderland with outsiders. 
So, to keep the locals happy, we're helping visitors get back home again. (And making it easier for the locals to return to the islands!)
Sure – come on over and explore the winter majesty of Flinders and King Islands. But then, please leave the locals to enjoy their stunning island homes for themselves.
As part of Discover Tasmania's The Off Season campaign, 50 lucky travellers will receive their return journey flights FREE. That's right – we're making it easier for you by offering you a free flight to get back home.
How it works
On 5 random days at different times during the winter months, we'll post an announcement on our Facebook and Instagram social media profiles, confirming the release of 10 free flights.
Then, you'll need to call our Reservations department on 1300 556 694 to redeem our offer. Bookings are on a first-come, first-served basis – so once you see the announcement, you'll need to be quick.
We'll only announce the releases on our Facebook and Instagram pages, so make sure you follow us on social media.
If you're a member of the Sharp Traveller Club, however, you might receive a heads-up on release dates. You'd be crazy not to join the Club – go to our article for details on how to sign up for free.
Keep a sharp eye out for our announcements, and please - leave the locals to enjoy the Islands for themselves!
Terms and conditions
Fares on sale: from the date of each release until sold out
Travel dates: from the date of each release to 31 August 2023 - not available during Victoria/Tasmania school holidays (Sat 24 June to Sun 24 July)
Fare details: Book a round-trip flight with Sharp Airlines (two flights in total, one to your destination and one returning to your origin) and receive the return flight (second portion – the flight returning to your origin) free of charge
Fare conditions:

Available for new bookings only
Available for phone bookings only – Not available for online bookings
Maximum 1 return flight per person for the duration of this promotion
Maximum 2 return flights per booking
Maximum 10 return flights available per release
Bookings are on a first-come, first-served basis
Flights to and from the destination must be booked at the same time
If one portion of the flight is cancelled, the free return flight is forfeited
Back to News Section